Cinematic Audio Bible Experience with Kevin Sorbo & Friends Now Available on Spotify & Apple Podcasts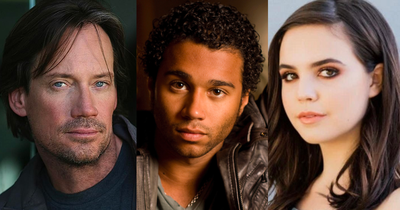 By Crosswalk.com Editorial Staff, Crosswalk.com
The popular Breathe Bible audio experience voiced by a cast of internationally acclaimed film, television, and recording artists, including Kevin Sorbo, Hill Harper, and Jesse McCartney, is now available on all podcast platforms like Spotify and Apple Podcasts. This captivating multi-million dollar audio production, which features cinema-quality sound with an original, full-orchestral music score, was initially developed by Tyndale House Publishers.
LifeAudio, Crosswalk.com's in-house podcast division, has partnered with the Breathe Bible team to expand the program's global listenership and reach the highly engaged podcast audience. With more than 32.5 million Spotify users and 28.5 million registered Apple Podcasts users in the United States alone, making the show available for free as a downloadable podcast on these platforms will hopefully give it new life.
"It was an honor to do," Kevin Sorbo, the voice of God in the production, told CBN. "You're going to hear the nails going into Jesus' hands. You're going to hear the prayers and the cheers and the jeers and the crying. It's like you're actually there."
The podcast, which releases one episode per week, has started with the Gospel of Mark and will continue through the New Testament. Listen now on Apple Podcasts or Spotify, or keep scrolling to see whose voices you'll hear as you listen!
Meet the Cast:
Kevin Sorbo (Voice of God):
Seen in: Hercules: The Legendary Journeys, God's Not Dead, Xena: Warrior Princess
Hill Harper (Mark):
Seen in: The Good Doctor, CSI: NY
John Rhys-Davies (Narrator):
Seen in: Indiana Jones, Raiders of the Lost Ark, The Lord of the Rings
Josh Lucas (Jesus):
Seen in: Sweet Home Alabama, Yellowstone
Wintley Phipps (Peter):
Heard in: Hit Songs Like "I Choose You Again" and "It Is Well With My Soul"
Jesse McCartney (Matthew):
Heard in: Alvin and the Chipmunks & Hit Songs Like "Beautiful Soul" and "Because You Live"
Corbin Bleu (John):
Seen in: High School Musical, Jump In!
Bailee Madison (Young Mary):
Seen in: Just Go With It, A Week Away
Christian Stolte (Luke):
Seen in: Chicago Fire, Chicago P.D., Law Abiding Citizen
Marshall Allman (John the Baptist):
Seen in: Blue Like Jazz, Prison Break, Hostage
Hear more on Apple Podcasts or Spotify.
Photo courtesy: © 2022 Tyndale House Publishers; Carl Amari