What Does the Bible Say about Bitterness?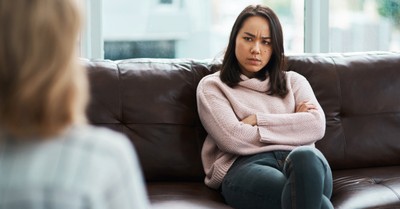 By April Motl, Crosswalk.com
Brought to you by
Hebrews 12:12-15 has been, for me, one of those life-changing selections!
I was blessed to grow up in the church. And while I count that experience as a blessing, my foundational years were not untouched by people inside the church who did not reflect the values Christ's Bride ought to show.
Thankfully, the Lord covered those experiences with His grace in my heart. I didn't see those experiences as proof that God wasn't real or that He wasn't alive and active.
I simply saw people who didn't have as much Jesus in them as others. I wasn't mad about it or put off by it. Sometimes hurt, but not wrecked by the church over it.
One of the good things God brought out of those experiences was a keen awareness that God's people could be filled and not filled with the Holy Spirit, walking with God and not walking with God.
I saw how our involvement with the Holy Spirit changed who we were in tangible ways. And it propelled me to search for the growth paths that would ensure more of God in my life.
Spiritual growth is an interesting dance. It is the fruit of grace in our lives and yet we are not called to sit by without participation. Scads of books have been written to illuminate the path of growth for us.
Read your Bible, pray, worship, and fellowship with other believers are all cornerstones of spiritual growth. Yet there is a certain element of mystery to spiritual growth.
Maturity doesn't always take the expected pathways. But one thing is certain, God's grace is always paramount to the process.
Below are three things that bitterness can keep us from that the Lord has for us:
1. Receiving Grace
The above Bible passage is one of the few places in Scripture God shows us a way we can shut our hearts off to receiving His grace — bitterness.
Our hearts can only hold a few things at a time, with us often overestimating how much we can cram inside them. God did not design our hearts to hold unforgiveness or bitterness along with His grace at the same time.
Sort of the way darkness flees from the light, grace chases unforgiveness out of our soul space. If we choose to hold onto unforgiveness (which grows into bitterness) we are saying "no" to God's grace in our lives — grace for others as well as grace for ourselves.
This defiles us and others when we cling to our right to our feelings of unforgiveness. "See to it that no one comes short of the grace of God; that no root of bitterness springing up causes trouble, and by it many be defiled" (Hebrews 12:15).
God's Word tells us that forgiveness of sins is tied to us forgiving others!
"For if you forgive others for their transgressions, your heavenly Father will also forgive you. But if you do not forgive others, then your Father will not forgive your transgressions" (Matthew 6:14-15).
Matthew 6:14-15 is another passage where we see the grace to grow hinge upon how we respond to God's grace in general. It is easy to welcome God's grace in our lives for us, but His grace isn't quite like that. It's an all-or-nothing sort of power in our lives.
It's not meant for us to hoard and not share. It just doesn't function like that. So, if we want God's grace to propel our growth in Christ, we are wise to check what we are doing with His grace in our hearts for others.
2. Community Engagement
Another important facet of the verse from Hebrews is that one person's bitterness can impact a whole community. "See to it that no one comes short of the grace of God; that no root of bitterness springing up causes trouble, and by it many be defiled"(vv. 12-14, emphasis added).
In church communities and family lines, bitterness is a spiritual stronghold.
But one whom you forgive anything, I forgive also; for indeed what I have forgiven, if I have forgiven anything, I did it for your sakes in the presence of Christ, so that no advantage would be taken of us by Satan, for we are not ignorant of his schemes (2 Corinthians 2:10-11).
In your anger do not sin: Do not let the sun go down while you are still angry, and do not give the devil a foothold (Ephesians 4:26-27).
If we marinate in our right to be offended, angry, hurt, etc., instead of confessing our pain and need for help to forgive someone, the enemy gets a foothold — a military outpost — in our lives.
I have enough troubles I make for myself without inviting the enemy to have a place of influence in my life! I want to close every opening, every crack or broken space the enemy might try to get at.
3. Offering and Receiving Forgiveness
Forgiveness has been at the center of this safe-guarding process for my life. And in turn, the more grace flows through our lives, the more the fruit of grace grows in us.
Now, so I am not misunderstood, reconciliation and forgiveness are two different spiritual/emotional/relational processes.
Forgiveness is a personal process that happens between an individual and God. It does not require the offended party to engage the offending party. And praise God for that!
Because forgiveness is so crucial to cleansing our souls, if we had to wait for the offending party to be available or willing to receive our forgiveness, we could wait a lifetime — or even put ourselves in terrible harm, considering abusers and the like. Forgiveness is a healing process that takes place between us and our Lord.
Reconciliation involves the offending party. It requires loads of grace, just like forgiveness, and needs the help of the Holy Spirit too.
But it happens as two people come to terms with the brokenness between them as they seek to remedy that fissure. God does not require reconciliation for our spiritual growth or for His grace to flow through our lives.
In my life, most all the offenses I've experienced, I really just wanted the other person to stop the wrong behavior so we could be close again. That hasn't always happened. Boundaries have been necessary, but before I placed the boundaries, I sought reconciliation and forgave them.
What Does This Mean?
One of the keys to protecting our hearts from bitterness and making sure we are pursuing peace with everyone (Hebrews 12:14) like God would want, is to pray blessings over people, especially the ones who have hurt you.
Bless those who persecute you; bless and do not curse…Do not be overcome by evil, but overcome evil with good(Romans 12:14,21).
To sum up, all of you be harmonious, sympathetic, brotherly, kindhearted, and humble in spirit; not returning evil for evil or insult for insult, but giving a blessing instead; for you were called for the very purpose that you might inherit a blessing(1 Peter 3:8-9).
If we are diligent in watching over our hearts to see that no bitterness grows, thereby blessing everyone, even those who have hurt us, we will inherit a blessing.
If you'd like a list of Scriptural blessings to pray over people, contact the ministry at [email protected]. If you'd like more resources about forgiveness, check out Free to Flourish: Cultivating the Fruit of the Spirit. For more encouraging resources, visit Motl Ministries.
For further reading:
What Is the Root of Bitterness in the Bible?
What Type of Person 'Sows Discord'?
Should All We Do Be Done in Love?
Photo Credit: ©iStock/Getty Images Plus/PeopleImages
---
April Motl is a pastor's wife, homeschool mom, and women's ministry director. When she's not waist-deep in the joys and jobs of motherhood, being a wife, and serving at church, she writes and teaches for women. You can find more encouraging resources from April here and here.
LISTEN: Three Common Obstacles to Understanding the Bible
The views and opinions expressed in this podcast are those of the speakers and do not necessarily reflect the views or positions of Salem Web Network and Salem Media Group.
WATCH: 5 Verses on Strength for When You Feel Weak
Video stock video and music probided by SoundStripe
This article originally appeared on Christianity.com. For more faith-building resources, visit
Christianity.com.