What to Do When You Fall Out of Love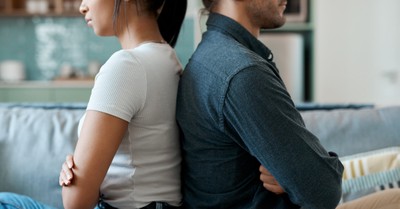 By Rhonda Stoppe, Crosswalk.com
"Is this really my life?" the young bride said through tears. Theresa couldn't believe she found herself "falling out of love" with the man she had vowed to love forever—only 18 months previous.
Theresa composed herself and told me the story of the whirlwind romance that led up to her marriage. As she shared with me how she and her husband met, I saw a sparkle in her eye and a gentle smile across her lips. When she talked about the long walks she and her fiancé would take on the beach, holding hands and dreaming about how happy they would be as husband and wife, another tear trickled down her cheek.
What had happened? Theresa couldn't point to any particular event that had caused her feelings for her husband to change. It had all happened gradually. "Life just got in the way," was how she put it.
What's the Key to Staying in Love?
Theresa's story is not uncommon. Many couples find themselves in trouble when they wrongly make the tasks of everyday living their priority—rather than nurturing their love for one another. So how can you cultivate a loving relationship with your husband that will stand the test of time?
The first insight into building a love that lasts is to take your focus off of how much you want to be loved by your husband.
If you become obsessed with your longing to feel loved, you will become more preoccupied with self-satisfaction than with building a happy relationship. And this, in turn, will undermine the health of your marriage.
You may be surprised to learn the secret to loving your husband well lies in learning to love God deeply. Because when your love for the Lord is genuine, He gives you His supernatural ability to love others selflessly—including your husband.
The marriages I most want to emulate are those of husbands and wives who have learned to love God so much that their passion for one another is almost supernatural.
Don't you want a marriage like that?
So how can you learn to love God so deeply that it spills over into your marriage?
Jesus said the greatest priority of life is to "love the LORD your God with all your heart, with all your soul, with all your mind, and with all your strength" (Mark 12:30).
Let's take a closer look at Jesus' words, shall we? Notice how He said you are to love God: with all your heart, all your soul, all your mind, all your strength. It's an all-out love. It holds nothing back. And it involves every part of your being—your emotions, your inner self, and your thoughts. This kind of love seeks to grow closer to God and know Him intimately. That's how you fall more and more in love with someone—by getting to know them.
Growing more deeply in love with the Lord means spending time with Him.
But first, for this to happen, you must have a relationship with God through Christ. If you have received Christ as your Savior and Lord, then you are a child of God, and you have a relationship with Him.
If you haven't taken this step or you aren't sure whether you have, then I would encourage you to contact me through my website NoRegretsWoman.com so I can send you an article I've written called: "How to Have a Relationship with Jesus." This article is also found in the appendix of all of my books.
Getting back to loving God—here are specific steps you can take to grow in that love:
Devote yourself to discovering God's character qualities through Bible study. Study the Bible with other women who have a sincere desire to love God with all of their hearts.
Read His Word and get to know Him better. The more you read the Bible, the more you'll learn God's desires for your life. You'll come to see life—and your marriage relationship—from His perspective.
Pray to Him throughout the day. Communicate with and talk to God regularly because love grows through frequent interaction.
Fellowship with other believers who have a genuine love for the Lord. Let their love for Jesus serve as a contagious influence for you.
I can say with confidence that pursuing intimacy with God transformed my marriage, and I am confident that it can transform yours as well.
That's because when your love for God is right, He will help you love your husband the way your heart longs to love him, and you will build a marriage with no regrets.
LISTEN to this short audio clip: STAYING IN LOVE to help you build a #NoRegretsMarriage.
Rhonda Stoppe is a pastor's wife, speaker, and author. As the NO REGRETS WOMAN, Rhonda has more than 20 years experience of helping women live life with no regrets. Through humor, and honest communication, she helps women build NO REGRETS LIVES by applying sound teaching from Scripture. Rhonda appears on radio programs, speaks at women's events, MOPs, and homeschool conventions throughout the nation. Rhonda Stoppe's book Moms Raising Sons to be Men is mentoring thousands of moms to guide sons toward a no-regrets life. Her new book If My Husband Would Change, I'd Be Happy: And Other Myths Wives Believe is helping countless women build no-regrets marriages.
Publication date: July 18, 2016
Photo credit: ©GettyImages/PeopleImages