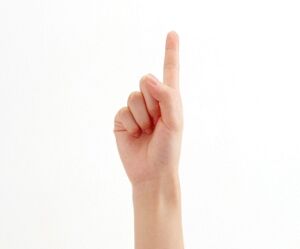 By Dan Seaborn, founder, Winning At Home Inc.
Some time ago, around this season of the year, a friend named Dennis dared me to take a crack at a certain sort of New Year's Resolution. Dennis's goal for the year was to pick a single word, just one, and let that word come alive in his life over a twelve-month period. His challenge for me was to do the same thing, to try out a word of my own.
Never the kind of person to let a challenge go unmet, I took the one-word resolution idea and decided to give it a shot. That year, of all the words to pick from, I chose one that had a glaringly obvious need for development in my life: PATIENCE. With the word tucked nicely into a corner of my mind, I hung a new calendar on the wall.
Not even a week after the ball dropped in Time's Square that year, I was driving my family home from a party hosted by some friends. The night had been fun, but a few hours spent mingling while keeping track of four kids will fry my energy almost as quickly as it fries my last nerve. By the end of the evening, I just wanted to be away from people, away from talking, and away from noise in general.
As I drove home from the party, my temper was on a hair-trigger. So when one of my kids started disagreeing with me from the backseat, it was all I could take. I snapped immediately, launching into a verbal tirade about why I was right, how tired I was, and why children should be quiet when they're in the car.
In the tense moments that followed my little outburst, I remembered that this was the year I was supposed to learn patience.
That patience didn't come easily. Over the course of the next twelve months or so, there were many other moments where my brain had to check my impatient behavior-instances where I had to ask for forgiveness and try again. In time, though, I really did get better at keeping my composure.
When exasperating moments came around, I learned to count to ten before reacting. I learned to wait for people without getting frustrated right away. Little by little, I learned patience.
As January approaches this year, most people are thinking about those five pounds they've got to lose, or they're contemplating finishing that project that's been sitting in the basement for eighteen months. Instead of making resolutions like those this year, I'd like to challenge you to try something even better. How about a one-word resolution of your own?
What area of your character could use some growth? Is there a part of your life that needs development? If you had to choose, which word would you work on this year? How about kindness? Generosity? Contentment? Health? Compassion? Happiness? Control? Service? Prioritizing? Truthfulness? Selflessness? Trust?
Pick a word, any word, and seek to let it build in your life this year. Write it on your calendar or tape it on the bathroom mirror. Stick it to the fridge or make it the opening message when you turn on your cell phone.
Put forth a conscious effort to change this one word, and-I promise-something amazing will happen. When next January comes around, you'll find that your one-word resolution has become something much bigger: a one-word revolution.
---
Winning At Home Inc., is a nationally-known organization designed to assist and encourage people of all ages and stages of family development. Dan Seaborn, founder, wrote this article in conjunction with Winning At Home's staff editor Lisa Velthouse. E-mail your questions or comments to [email protected].