Music Review: "Bebo Norman"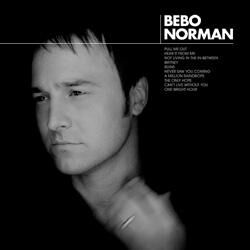 By Andrew Greer, ccmmagazine.com
Bebo Norman has spent a dozen or so years as one of Christian music's most eloquent artists, publishing transparency as if it is normal to bare one's soul to thousands of listeners in each and every song. But when Bebo first traversed the country as a 20-something in the mid-'90s his acoustic storytelling was something differentâ "a fresh alternative to Christian music's brand of programmed pop.
Conquering college stages with his laidback humor and honest music, Norman garnered a slew of young, loyal fans, selling thousands of homemade CDs in the process. Now, six albums and more than a decade later, Norman issues his self-titled recording on new label home BEC, inviting listeners to the next chapter of verse and lyric.
The first single, "Pull Me Out," introduces the record with a pounding acoustic guitar and begging first stanza: "Tell me now/When does this start feeling like I understand/Everything I'm dealing with . . . This could be all about just letting go/Or this could be all about just holding on."
Using one of the most universally recognized first names in pop culture today, "Britney" continues the candor, making an apology for the lies we've fed young women and our irresponsibility in helping them through the struggles they face as a result.
Alluding to the anxiety that has plagued Bebo backstage for years, "Ruins" is the most poignant and personal cut on the disc. Vulnerable lyrics demonstrate Bebo at his best: "Laying flat upon my back/All the world in motion/Everything goes by so fast/I feel like I'm frozen . . . This is my holy hour, this is my world on fire/This is my desperate play, this is where I am saved."
What's so interesting about Norman's music is his aptitude for good pop while never forfeiting the integrity of each and every line. And on Bebo Norman the singer/songwriter takes the next step in a career that is sure to be celebrated for many years. –
---
Used with permission,