Jordan Feliz – From Parking Cars to Rising Star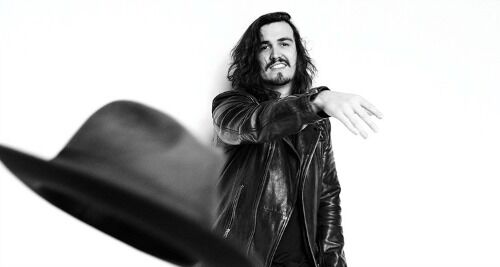 By Lindsay Williams, CCM Magazine
Jordan Feliz was just a kid when he and his dad were cruising down State Route 168 in Clovis, California. From the passenger seat, Feliz began to reflect on his current gig: leading worship for the youth group at his church. And that's when it happened—a clear calling from God.
"I remember thinking about how much fulfillment I was getting from being able to lead people and to utilize a song to inspire people to worship God," Feliz recalls. "I just remember [the Lord] literally saying, 'This is what you're going to do.' That was it… And from that moment, I think it just lit a fire in me… I feel like that was the moment I felt called to it, and it's still one of the most significant God-moments I've ever had in my life."
To look at Feliz now, you'd never know the road from teenage calling to Christian pop sensation was anything but smooth. After all, Feliz, 27, seems like an overnight success. His story feels like the stuff dreams are made of. And, in many ways, it is.
A chance encounter with Jennifer Deibler, from '90s Christian pop group FFH, led to some of his songs being passed to Centricity Music, who quickly signed Feliz and worked with him to craft his debut EP, Beloved. When the label sent a single to radio, "The River" immediately shot up the charts, landing Feliz a No. 1 hit before he had even released a full-length album. The song left program directors begging for more, and in turn, the label moved up the release date of his full-length to April. Now, with his album—aptly titled The River after his first radio hit—officially in stores and his second single, "Never Too Far Gone," impacting radio, Feliz is poised for unprecedented success, not unlike his label mate Lauren Daigle.
"Having the support from Christian music listeners and everybody at radio has just blown my mind and made me feel so welcome," Feliz says. "The time has been overwhelming. That has been my word for my career thus far—overwhelming. But here's the thing: I would not have it any other way."
THE ROAD TO MUSIC CITY
Until last year, Feliz was valeting cars downtown. When he first moved to Nashville, he scoured Craigslist for work as a handyman—anything to help pay the rent to support his wife and forthcoming baby, who is now nine months old.
"I can do little things," he says, adding, "I'm not about to go build you a house, but I could install your fan or a light fixture or something."
While working a "day job" on the side to make ends meet, he slowly began honing his passion for songwriting.
"The first couple months were tough," he says of his move to Music City. "When you want to be a songwriter and a singer, you have to build a résumé… I just started pouring into the craft of songwriting and what my artist life was going to look like."
His "artist life" had been a hodgepodge of musical experience that, on paper, appears incongruent. Right out of high school, the California-native took a job as a lead singer for a mainstream heavy metal band. The style of music wasn't necessarily his forté, but the mission to take the love of Jesus into places you wouldn't normally find it was a cause he could rally behind. "The band I used to be in—it was never my passion," he shares. "I just loved the heart behind it. Our goal as a band was just to spread the name of Jesus."
Once the band broke up, he started writing his own songs and leading worship at a local church. While the music on his debut is unabashedly about Jesus; sonically, pop, soul and R&B flavors overrule any hint of worship overtones.
"It's kind of funny because my story doesn't really have a whole lot of musical consistency, but it does have a heart behind it that's consistent," Feliz offers. In fact, he would argue that The River is the most accurate reflection of who he truly is as an artist and the musical path he wants to forge.
While he grew up on a steady diet of '70s rock and soul, today, he's also heavily influenced by modern pop. It may seem like an incompatible concoction of mismatched genres, but one listen to his debut from front to back, and his influences all fall into place.
It was during his season as a worship leader that he felt God put Nashville on his heart. After he told his wife, the couple started deliberately praying about making a move cross-country; and after a year of serious prayer and planning, they packed up their belongings and began the trek to Tennessee.
Feliz, a self-professed planner, had booked numerous concerts along the way to cover their moving expenses, but at the last minute, all of the gigs were cancelled. The couple once again found themselves on their knees, wondering if they had misread the signs. However, they both still had a confirmation that Music City was ultimately where they needed to be, so they literally stepped out in faith and started driving.
Feverishly, the aspiring singer attempted to book gigs, mile-by-mile, state-by-state, as he made his way to Nashville. "I was literally calling churches while I'm driving," Feliz recalls.
Miraculously, the Lord provided every step of the way. "Literally, I would show up, and it would be almost the exact amount that we'd need to get to the next place," Feliz shares. "By the time we got into Nashville, I had made money… That, for me, has changed by whole mindset on everything, and I feel like it was Him teaching [me] like, 'Hey, I can do so much more with this if you let Me.' … So that's been what I've built my career around."
BABY, BABY
Feliz immediately connected with Music City's creative community. It was in Nashville where he was able to find his voice as a singer and songwriter. He discovered that the music of his youth had formed a foundation deep within his soul. "The moment I got to Nashville, all these things just kind of came out," he says. "It's just been so fun for me to be able to create something that I've been so influenced by my entire life."
Nashville is filled with struggling songwriters, many of whom work for decades before catching their big break. Yet, in the two years since moving to Music City, Feliz has managed to find his footing as an artist, sign a record deal, score a massive No. 1 hit and release an album. In music industry years, his career has progressed at lightning speed.
No one has been more amazed by the rapid pace of his success than Feliz himself, but it's not the only thing that's taken him by surprise. In the midst of developing his musical identity, Feliz and his wife found out they were pregnant with their first child. Jolie Bennett Feliz was born in the summer of 2015, and his baby girl has been a source of inspiration for the singer every day since.
"There's little flickers of her all over the full-length," he admits. "Even though [all the songs are] not directly about her, it's like they're all inspired by the way she has changed my life."
Before she was even born, Feliz penned "Beloved"—the title track of his initial EP—for his daughter.
"I knew the world was going to tell her all these things, like, 'You're not going to be skinny enough' and 'You're not going to be pretty enough.' To the world's standards, she's not going to be good enough, but I wanted her to know, no, no, no, you stomp on those lies and you realize that you are loved by the Most High, that you are His cherished creation," he says.
And then she was born, and he couldn't get her out of his head and heart while he was writing. "It's like a whole new flood of stuff came once I held her for the first time," he confesses. "When you become a parent, you just realize there is nothing that my baby girl could ever do to make me not love her. Literally, there's nothing. I will always love her unconditionally."
This love translated into the lyrics for his current infectious single "Never Too Far Gone." "When I held her for the first time, my mind was already going to the fact that, man, that's the way the Lord views us. We are His kids. There's nothing we could do… There's nothing that will separate us from the love of Jesus," Feliz maintains.

FAR FROM HOME
Leaving Jolie and his wife, Jamie, has been one of the hardest parts of this new musical adventure. He and his wife have been together since he was fifteen and she was fourteen. "It's a little difficult to be away from them. It's actually really, really difficult," Feliz admits, "but the beauty in it is that [Jamie] knows I'm not here just to play music… It's a lot bigger than that… Even though it has been a crazy, overwhelming time, I am just seeing so much Jesus in it, and that is just an incredible feeling.
"One of the things that has been such a help outside of just seeing the Lord in everything is my wife," he continues. "She has just been an amazing support… She's seen me through all of it."
Feliz's parents moved from California to Nashville shortly after learning Jolie was on the way, and he says they're also a huge part of his support system and a godsend to help with the baby while he's on the road. "The moment that it was like, 'There's a baby coming' my mom had a 'For Sale' sign in the front yard. It was 30 seconds later. I don't even know how she did it," Feliz shares, laughing.
He says his parents have always genuinely modeled the love of Christ, creating a solid foundation for him early on that's only gotten stronger through the years as he's pursued his calling and become a husband and father. They remain his two biggest cheerleaders.
"They've never been part of working for a church, but they've always been a massive part of building the Church," Feliz says of his mom and dad.
Even on the lonely nights when he misses his family, Feliz has his sights set on a greater mission, and that's inevitably what fuels him. And when the bus heads back to Nashville, he knows Jolie's wide smile will be waiting for him. And for the up-and-coming artist, that's a sweeter reward than any No. 1 song.
"I just want to try to serve God the best I can [with my music] and also serve my family and serve the people who have been so supportive of me," Feliz says. "So long as I can do that, that'll make me really happy."
Despite his simple goals of loving and serving people well, he continues to be amazed at how the music career he's always dreamed about has finally come to fruition. "I feel like the Lord has poured out so much provision and favor on this," he concludes, "and I just wake up every day with this eternal thankful, humble and grateful attitude, because I don't really understand why He has me where I'm at, but I'm humbled by it."
---
Click here to read more articles like this from CCM Magazine! The above article is printed with permission from CCM Magazine, the No. 1 source for all things Christian music, news and entertainment