Phil Wickham Is Raising His Voice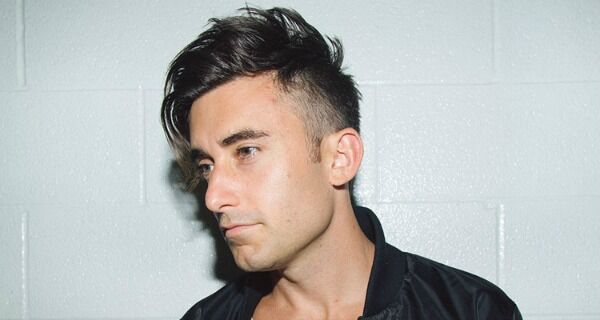 By Matt Conner, CCM Magazine
How His Moment Of Great Silence Brought Him Back To Times Of Loudest Praise
Every artist dreams of such heights—of chart-topping songs, of crowds singing along, of significant influence. For Phil Wickham, a long obedience in the same musical direction had given way to such panoramic views. His hit single "This is Amazing Grace" earned Gold status in sales and streams, and was the most played song on Christian radio in 2014. Wickham won Song of the Year at the 2015 BMI Christian Awards, and was nominated for another three Dove Awards. The song was also the second-most sung worship song in churches in the United States, per CCLI charts. In short, Wickham had climbed high enough to enjoy a view rarely afforded most artists.
It was also the most unexpected place for Wickham to receive the most devastating news.
"I was diagnosed with a polyp on my vocal chord about two weeks after "This is Amazing Grace" went No. 1, so it was before I started recording my latest record," says Wickham. "It was right at the height of God seemingly doing some really special stuff, which made the whole situation an even heavier thing for me. I was experiencing joy and excitement—watching what God was doing with the songs from my last record. Then all of a sudden, my voice just shut down."
The Long Road to Success
Wickham has long been a popular name in worship circles, with ten years of acclaimed releases to his name. Ever since Wickham's self-titled debut in 2006, the San Diego, California native had enjoyed a steadily growing audience on the strength of strong Brit-pop/rock melodies and vertical lyrics. Singles like "Grace," "After Your Heart," "Safe" and "At Your Name (Yahweh Yahweh)" kept Wickham a familiar name, even if serious success eluded him. Then came the mega-hit.
"I was surprised by 'This is Amazing Grace,'" says Wickham. "I began writing the song years before it was ever recorded with a friend named Josh Farro. We were talking about the grace of God, and the song was born, or at least the first version of it. We recorded a really cheap, horrible sounding demo of just us two singing it with a computer and some acoustic guitars, but that little mp3, that demo, changed hands over the next several years and eventually found its way to Jeremy Riddle at Bethel Church in Redding, California, who heard it and thought there was some potential in it.
"Jeremy asked if he could rewrite some of the verse and lyrics, and I had completed forgotten about the song since years had gone by. I told him, 'Do whatever you want with it.' The next thing I knew, I was listening to a song on a Bethel [Music] live record called 'This is Amazing Grace,' and it just struck me pretty deeply. I was moved by it and I thought man, 'I'd love to sing this song.'"
Riddle did record it first, releasing it on the Bethel worship album For the Sake of the World. Wickham says he was unaware at first that the song he loved was the very one that Riddle had asked about changing. After putting a cut of the song on his album, The Ascension, the song found a home both on radio and in churches coast to coast.
"I remember once it hit number one on radio, I called Jeremy and I think I just said something like, 'Dude, This is Amazing Grace.' We just started cracking up. He was like, 'Oh my gosh, who knew?' So I'm just thankful to be one part of a story that this song that has given the church another chance to sing, to express our love and thankfulness for the amazing grace that God has given.
"I feel completely honored that this song would be used in churches, not just in this country, but churches all around the world, as a way to give them voice to their gratitude for the grace of God. That's just what I feel. As a songwriter, I write a lot of different types of songs, but the ones that I am most satisfied in, and feel the most at home at, are songs for the church to sing. The fact that 'This is Amazing Grace' became a part of that voice is a massive honor. Again, I'm so thankful to be a part of it."
The Loss Of It All?
"It hit me like a ton of bricks," says Wickham. The loss of his voice and subsequent need for surgery put everything on the line. For the first time in his adult life, Wickham faced an uncertain future. His passion for music, his calling, his influence and even his ability to make a living were all on the line.
"The doctor started talking about surgery and told me that I had to be completely silent for two months," says Wickham. "Then he also threw out there that, though they thought they could get my voice back to working order, there was a possibility that it wouldn't heal correctly, that I wouldn't really be able to have the endurance, strength or control to sing professionally again.
"Knowing surgery was coming, I cancelled five months worth of shows. I knew I'd have to be silent and not talk to my kids or my wife for a while. It was going to be tough, but knowing that at the end of it all, I might not be completely healed, I remember feeling frustrated, depressed and nervous for the future."
Yet Wickham says the biggest hurdle he faced was not the actual surgery or the work needed to potentially recover. The worst part of it all, says Wickham, was that he did not know who he was apart from his artistry. "The biggest demoralizing feeling was the loss of identity."
"I just remember thinking, 'I have been leading worship and singing and writing songs since I was thirteen years old," says Wickham. "This is what I do and what people say I'm good at. This is what I say I do when people ask. If I'm not a singer, than what am I? I remember feeling lost in the sense of who I am, wondering, 'What's my identity?' I felt some depression in that, for sure.
"I remember sitting in the spare room in my house saying 'God, so many cool things have been happening and then this hits. I don't see You in this. I don't hear You in this, but I want to. I know You are somewhere in this. I trust that You are, but I don't feel You. I'm just scared and lost right now and I ask that You'd speak.' Then He did. He spoke to my heart in a very heavy way."
While Wickham admits to periods of despair, he never let himself completely call it quits mentally or emotionally. "I didn't let myself get that dramatic in my mind," he says.
"Obviously there are those whispers in the back of my mind that thought, 'Wow, what in the world am I going to do if I can't sing anymore?' I guess I thought I could write songs. I also thought I could learn how to be a barista," he says with a laugh.
"I didn't know what else I would do. I was just trusting God. Maybe in those first couple days before I felt God really speak to my heart to trust him, there were moments of fear. Your mind goes places it doesn't even need to go, but you know, once it was time to trust God, I didn't do it perfectly, but we made it a choice to trust that if this isn't what I'm supposed to do, then there's something better."
Finding Meaning
Even during the healing process, Wickham was still able to experience moments of ministry to those around him. As Wickham kept fans updated on his diagnosis and condition on social media, the prayers from fans all over the world began pouring in. Wickham says those very prayers were answered and left his doctors stumped.
"At first they told me, it could be up to two months before I could even start the vocal therapy, but in two weeks they checked me and their minds were blown at the quickness of the healing that had happened in my vocal chords," he says. "They couldn't even see a marks left from the surgery at all—they couldn't see a scar or spot of healing; it just looked perfect and they couldn't believe it.
"I mentioned to them that there were a couple thousand people around the country praying for me—prayer is powerful. They just laughed it off, but I do believe that God intervened in that situation and showed me again how we can trust Him. God doesn't always make things happen the way we think it should happen, but we can always trust God, because in the end, we get to see Him face to face."
Wickham says the spiritual intimacy cultivated in his relationship with God over the course of those months of healing became the very messages imprinted within the songs on his brand new album, Children Of God (FairTrade Services, April 22, 2016). Wickham had to experience for himself the radical truths found in the simplest of Christian tenets in order to meaningfully communicate them to his many fans.
"There have only been a few times in my life when I felt the closeness and nearness of God's presence in this undeniable sense that God was speaking straight to my heart. Not audibly, I mean, but just the next step back from that. I just knew God was speaking to me, and He told me something so simple that I've known my whole life—that I've sung in Sunday School songs. It just hit me in this massive way. He said, 'Phil, I'm your Father and you're my child, so just trust Me.'
"This idea of being a child of God hit me so heavy, and I immediately felt this sense of freedom, joy and peace. I still didn't know what that meant. I didn't know if that meant I was going to be healed and sing again or not, but that took a back seat to the idea that I'm a child of God and God the Creator is my Father. I have nothing to fear. I have only hope and joy and freedom and life ahead of me."
Coming through such a period has brought clarity to Wickham's message and ministry. As seen on Children Of God, Wickham's newfound understanding of his own spiritual identity has given him a clear purpose to communicate the same.
"We are more than the applause or criticism of men," explains Wickham about what he has learned. "We are so much more than what people tell us we are. We are who God says we are, and in Jesus, we are forgiven and set free—redeemed and unashamed, clean and born again. We are children of God!"
---
Click here to read more articles like this from CCM Magazine! The above article is printed with permission from CCM Magazine, the No. 1 source for all things Christian music, news and entertainment