11 Ways to Build a More Loving Marriage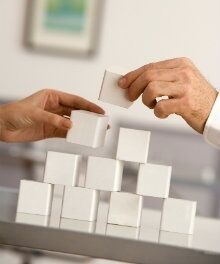 By Erin, Greg, and Gary Smalley
If your marriage isn't what you'd like it to be and your husband isn't changing, there's still hope that your relationship with him can improve. That's because you can greatly influence the state of your marriage when you change yourself through the power of the Holy Spirit working in you. The growth of one person in a marriage relationship significantly impacts the other person.
Here's how you can change your marriage by becoming a more loving wife, with God's help:
Recognize that a more loving relationship begins with you. Stop wasting time and energy trying to change your husband and accept the fact that only God can convince and empower your husband to change. However, be encouraged that you truly can improve your marriage by becoming the woman and wife God intended you to be. Aim to inspire your husband to seek a closer relationship with God (which will change him) when he experiences God's love flowing through you into his life. Engage wholeheartedly in your marriage and trust God's ability to transform it for the better as you rely on him.
Honor your husband. Ask the Holy Spirit to help you see your husband's true worth and value him as God intends by treating him with love and respect. Make a list of the God-given qualities that you admire about your husband, and choose to focus them as much as possible while giving your husband grace for his weaknesses and failures.
Nourish your marriage. When you take good care of yourself (body, mind, and spirit) and your husband (by treating him with love and respect), you put each other in the healthiest position to grow your marriage. Don't allow your marriage to be consumed by the stress of dealing with life's daily demands, such as household chores, errands, work, and parenting duties. Make sure that you're enjoying fun, romantic together regularly to nourish the emotional connection between you.
Accept the differences between you and embrace the freedom to be yourselves. Get to know the personalities that God gave you and your husband, so you can better understand how to work together to maximize each other's strengths and compensate for each other's weaknesses. Rather than be irritated by the ways your husband is different from you, choose to view those differences as gifts from God that can enrich your marriage when you work as a team toward shared goals. Whenever possible, focus on activities that energize both of you and put your God-given gifts as a couple to good use.
Connect spiritually by relating to each other at the soul level. If your husband is a Christian, spend time together strengthening your relationships with God, in ways such as praying, reading and studying the Bible, and participating in church. If your husband is not yet a Christian, witness to him about the power of faith in Jesus by showing his love in action – such as by extending forgiveness, seeking to meet his needs, and praying for him.
Foster effective communication between you. Ask God to help you improve the way you communicate with your husband. Study your husband's communication patterns so you can learn when he's most attentive and how he most enjoys talking with you. Keep in mind that men usually prefer direct statements (rather than hints), like to achieve goals (such as solving problems) when they communicate, often focus on facts instead of feelings, tend to use fewer words than women do, are highly sensitive to disrespect and criticism, and tend to feel most comfortable talking while engaged in some kind of activity (such as talking a walk). Give your husband your full attention during conversations with him, and be sure to listen to him as least as much as you talk.
Enjoy your intimate life together. Don't neglect the physical part of marriage, which is a crucial part of expressing your love for your husband and maintaining a healthy emotional connection with him. Aim to have sex with your husband on a regular basis (which is important to men's wellbeing), in ways that you mutually enjoy. Tell your husband clearly what you need from him to feel emotionally engaged with him so that your body can respond physically when it's time to have sex. Keep in mind that sex is sacred because God has designed it as a way for spouses to express love, and God is the source of all true love. Clear your mind of distractions (such as your work, parenting, and household duties) during romantic times with your husband. Take good care of yourself physically (such as getting enough sleep and exercise) to keep your body fit for sex.
Resolve conflict in ways that lead to greater intimacy between you. While conflict is unavoidable in marriage, it doesn't have to harm your relationship with your husband. If you resolve conflict wisely, you can strengthen your marriage in the process. Identify each other's emotional buttons and what pushes them, choose your battles to focus on resolving only the ones that are truly significant, discuss facts about issues between you rather than attacking each other personally, honestly take responsibility for the ways you have contributed to problems between you, give each other equal time to talk, listen carefully to your husband and seek to understand his perspective, and seek win-win solutions.
Defuse anger. Understand that anger is an emotion that indicates the presence of other emotions – fear, frustration, or hurt – beneath the surface. Keep that in mind when either you or your husband feels angry. Identify what specific issues are causing the anger and address those issues. Seek help from a mentor or counselor to change unhealthy anger patterns.
Forgive each other. Obey God's call to forgive each other regularly after you hurt or offend each other, so bitterness won't take root in your marriage and poison it. Let the ongoing process of forgiveness set you free to enjoy a more loving marriage every day.
Treasure hunt for blessings hidden in your trials. Ask God to show you how he has used the trials you've gone through in your marriage to help you and your husband grow closer to him and each other. Move forward trusting God to always bring something good out of any circumstances you and your husband encounter, as you both rely on God together.
Adapted from The Wholehearted Wife: 10 Keys to a More Loving Relationship, copyright 2014 by Erin, Greg, and Gary Smalley. Published by Tyndale House Publishers, Carol Stream, Ill., www.tyndale.com.
Erin Smalley, popular author and speaker, holds a Master's degree in clinical psychology. She works at Focus on the Family and is an active partner in marriage ministry with her husband, Dr. Greg Smalley, who also serves as Vice President of Family Ministry at Focus on the Family. Greg's father, Dr. Gary Smalley is one of the country's best known authors and speakers on family relationships and the author or coauthor of 16 best-selling books. His 18-video series, Hidden Keys to Loving Relationships, has sold more than 900,000 copies.
Whitney Hopler, who has served as a Crosswalk.com contributing writer for many years, is author of the Christian novel Dream Factory, which is set during Hollywood's golden age. Follow her on Twitter @WhitneyHopler.
Publication date: July 28, 2014
Page Source (url): http://www.crosswalk.com/family/marriage/relationships/11-ways-to-build-a-more-loving-marriage.html