2nd Day of Virtual Learning Went Awry for 6-Year-Old - Mom Shares Hilarious Photos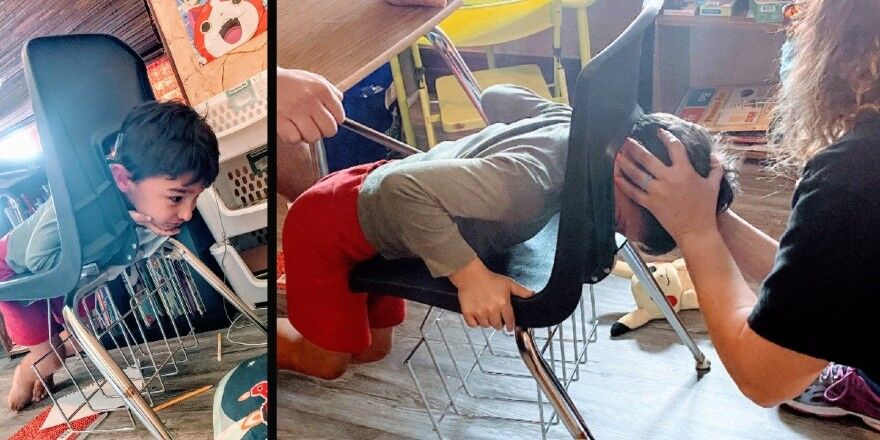 By Mel Johnson, GodUpdates.com
One mom's photo of her 6-year-old son on the 2nd day of virtual learning is going viral after the first-grader managed to get his head stuck in a chair!
The global coronavirus pandemic in 2020 completely changed the way schools operate. And with the start of the new school year in Fall of 2020, most schools implemented "virtual learning."
This meant students of all ages would attend class from home by using the internet. It was an effort to help slow the spread of the virus and keep kids safe.
But by the 2nd day of virtual learning, one mom from south Texas, Cinamon Contreras, discovered risks from the online setting no one would have ever imagined. And her hilarious photos from that fateful day are bringing parents everywhere a much-need laugh!
2nd Day Of Virtual Learning Goes Hilariously Awry
It was only 90 minutes into the 2nd day of virtual learning when things went awry for Cinamon's 6-year-old son, Colton.
As part of his classwork, the first-grader was writing and illustrating a short story. He dropped a marker and "took a short cut" while retrieving it.
That short cut involved sticking his head through the back of his chair. And while Colton was able to get his head through the chair, he suddenly found he couldn't get his head back out!
That's when Cinamon got a call from her older daughter no parent ever wants to receive.
"Mama, Colton got his head stuck in the desk so I called the fire department!" she told her her mom.
Cinamon had left her older daughter in charge and had only been gone about 10 minutes when she got the urgent call.
"Needless to say, I got home fast," the mom says.
Thankfully, Colton was just fine, albeit stuck. The fire department arrived and two first responders used bolt cutters to free the 6-year-old from his chair prison. So, on the 2nd day of virtual learning, Colton got a tour of the fire truck and one zinger of a story!
Photos Of Boy With Head Stuck In A Chair Go Viral
Once her son was freed and everything was ok, the mom could finally laugh about what happened.
"I'm the type of mom that thinks about safety for my kids," she said. "Put pot handles inward on the stove, don't leave knives on the counter, keep blind strings up high, don't leave a kid alone in the bath, etc. I would have never imagined this would happen but I'm learning that boys will be boys and do crazy things."
Cinamon Contreras couldn't resist sharing the photos from her son's eventful 2nd day of virtual learning online.
And the completely unique, yet relatable, moment struck a chord with parents all over. The hilarious pictures went viral in no time, bringing a much-needed smile to so many faces.
The incident certainly gave Cinamon Contreras a special appreciation for the work teachers and daycare workers do.
"If this happens at home with one, I imagine it's quite difficult when you're in a 22 to 1 ratio," she says.
And it's also a great reminder of just how unpredictable life is. No matter how much we try and plan, the unexpected will always come along and throw a monkey wrench in those plans. So, just stay focused on each day as it comes and don't spend too much time worrying about tomorrow!
"Then have no care for tomorrow: tomorrow will take care of itself. Take the trouble of the day as it comes." Matthew 6:34