Dad Breaks Down Crying As He Drops Son Off At College And It's Got Everyone Tearing Up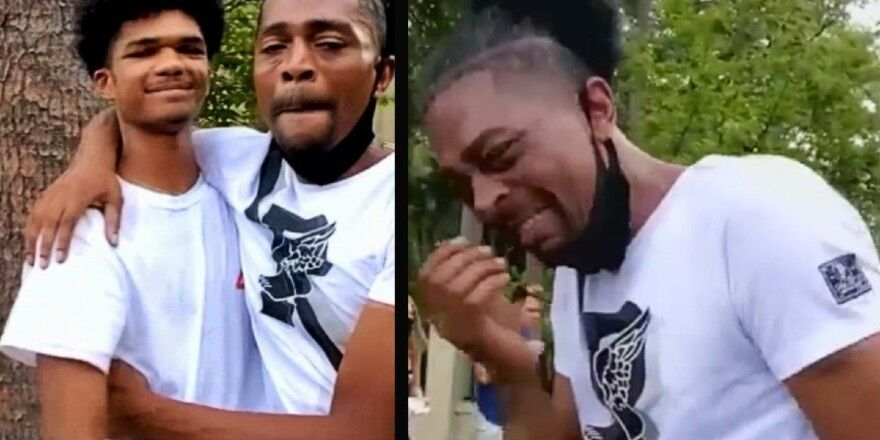 By Mel Johnson, GodUpdates.com
Ken Mohammad is the dad crying in a heartwarming video that has since gone viral. It was an emotional moment for the father as he dropped his son off at college. And his heartfelt tears speak volumes about the love he has for his family!
Parenting is all about sacrifice. There's the sleep you sacrifice when they are babies. The time, energy, and resources you give up to help them grow. And then, perhaps the hardest sacrifice of all comes when you let them "leave the nest".
That's the moment that left one loving dad crying uncontrollably. And parents all over are relating to his touching reaction!
Emotional Father-Son Moment Caught On Camera
For Ken Mohammad, it was an emotional moment as he dropped his 18-year-old son, Nasir Mohammad, off at college. For starters, the global coronavirus pandemic had wreaked havoc on Nasir's senior year of high school.
"Seniors really got robbed this year," Ken explained. "So you didn't have a prom. You didn't have a graduation for me to cry at."
But what ultimately left the dad crying was what gets most parents as they turn their children "loose" in the world.
"I just kind of broke down and lost it," Ken says. "I've never really been away from my son before."
Nasir's mom filmed the touching moment. And though Nasir may be a bit embarrassed right now by his dad crying, it's a memory he will surely cherish one day, as he looks back on his father's expression of just how much he is loved.
"I'll miss you, son. You've been with me your whole life. You're gone now," Ken Mohammad tells his son in the heartwarming video that has since gone viral.
Nasir understands what a huge moment this is for his dad.
"He really wanted me to go to college," the 18-year-old said. "He wanted me to get higher education. So I knew that he was going to be proud."
That pride is evident in Ken Mohammad's emotional reaction. And what a blessing to be loved so deeply.
And what a beautiful reminder that, no matter what our earthly circumstances are, we all have the unconditional love of our Father in Heaven!
WATCH: Video Of Dad Crying As He Drops His Son Off At College