Diver Missing In Florida Was Left For Dead But God Led His Worried Family Straight To Him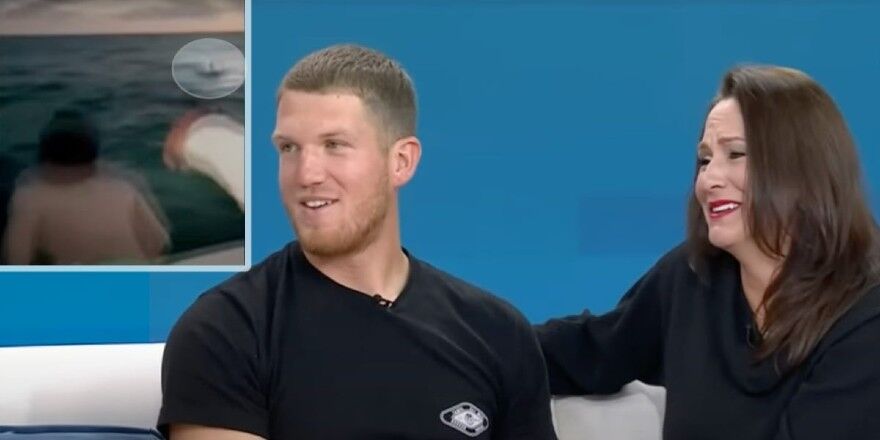 By Adam Staten, GodUpdates.com
Dylan Gartenmayer, a diver missing in Florida, has an incredible story about how his family saved him against all odds - in what they described as, "It had to be God protecting him the whole time"!
Hope and love will cause people to act in extraordinary ways, to push themselves and others beyond their limits. Both hope and love will cause people to keep going even when the odds are decidedly not in their favor. One video is a perfect example of what is possible with a little bit of hope and love.
A video posted to YouTube shows the moment a family was reunited with a diver missing in Florida who had been lost at sea for nearly four hours.
WATCH: Diver Missing In Florida Miraculously Saved By His Family
While spearfishing with a couple of buddies, a strong current swept that missing diver, Dylan Gartenmayer, out to sea. Dylan says that when he was finally able to resurface, he did not see his boat anywhere.
Dylan's family received a call notifying them their son had gone missing.
"I couldn't breathe, I couldn't talk," Tabitha, Dylan's mother, recalls about hearing the news.
To try and find him, the U.S. Guard launched a search for Dylan Gartenmayer. However, another search party – Tabitha, Dylan's mom, a family friend, Dylan's friend, a cousin, and his grandfather Edward – took off in a boat in hopes of finding Dylan in the ocean.
"Literally, it took the whole family to come together within seconds because that's our baby… and that's what you do," Tabitha explained.
Diver Missing In Florida Gets Unbelievable Rescue
As nightfall began approaching, hours after he first went missing, Dylan admits that he thought his life may be over.
"Yeah, one point, whenever that sun had set, this could, this could definitely be the end," he said.
Armed with hope and love, Dylan's family and friends headed to his last known coordinates – a favorite of Dylan's for diving. Sure enough, that's where his family and friends and not the U.S. Coast Guard found and rescued the young man.
The video shows the pure joy and jubilation of the people onboard the boat as they spot the diver missing in Florida floating in the water. Several people can be seen jumping up and down, screaming in excitement.
The diver's mother, Tabitha, in the interview, detailed what she did seconds after they successfully pulled Dylan Gartenmayer onto the boat.
"As soon as we got him on the boat, I just held him tight because he was freezing. He was shaking," she said.
Tabitha added that divine intervention did play a role in them finding Dylan.
"It definitely had to be a miracle. It had to be God protecting him the whole time or angels above because for us to land right on him — you can see it's a needle in a haystack out there," she said.
Praise God this young man was found alive!
Jeremiah 29:11 "For I know the thoughts that I think toward you, said the Lord, thoughts of peace and not of evil, to give you an expected end."
WATCH: Dylan Gartenmayer Shares His Miraculous Story