Holiday Tablescapes - Fresh finds to inspire any table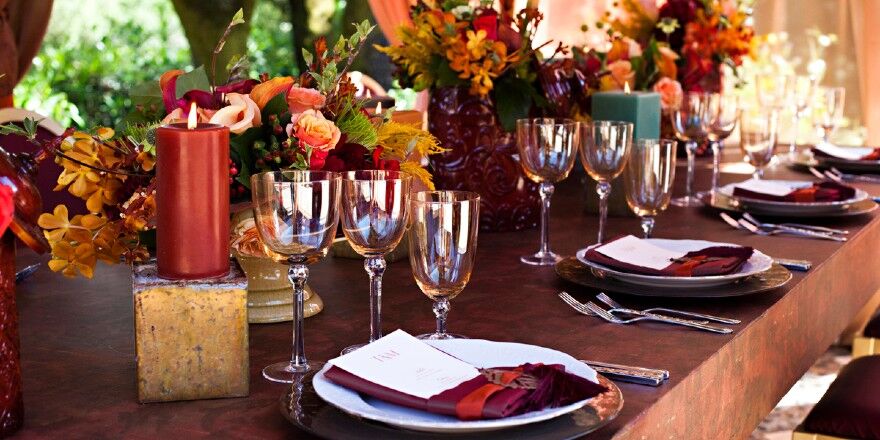 (Family Features) The holiday home entertaining season is gearing up, which means it's time to take your entertaining dreams and inspirations and make them a reality. As you begin planning for the next time you play host(ess) with the most(est), don't let the creativity stop with the food. Create a holiday tablescape to set the mood and serve as the focal point so you can have the prettiest and most festive holiday party possible.
Inspiration can come from the changing seasons, touches of color, unique pieces and chic dinnerware to draw your guests in to an inviting celebration of friends, family and food. Not sure how to tackle your table? Follow these tips from the entertaining experts at CorningWare, Corelle and more to help you turn your table from simple to simply breathtaking.
Throwback tablescapes using family treasures
Use a family heirloom as your starting point to bring a totally custom and retro twist to the table. Not only will it help to choose a color theme, but it will serve as a great conversation starter and ice breaker. Whether it's your grandmother's gorgeous glass vase filled with seasonal flowers that pop, or a retro tree topper, everyone at the table will notice and enjoy an unexpected piece.
Nothing adds color and fun to a table like sweet treats. Find uniquely shaped bowls and glasses and fill them to the brim with your favorite colorful holiday candy like Candy Corn. Fill an oversized hurricane glass with mini candy canes or chocolates and marshmallows for after dinner s'mores. Get personal and create your own "Friendsgiving" cornucopia filled with treasures your guests will love, like old pictures, ticket stubs or their favorite candies.
Stay chic with the classics
Invest in quality, white dinnerware and serveware to easily transition from holiday entertaining to everyday use. Classic white plates complimented with white baking and serving vessels can serve as a blank canvas to add color and personal touches. Boutique by Corelle is a timeless dinnerware set that resists breaks, chips, scratches and stains providing durability to create the perfect table season after season. And French White CorningWare with its classic fluting makes every dish you serve look extra smart.
Personalize the table with your favorite seasonal flowers, fruits and vegetables for an organic and fresh look. These elements bring pops of color and texture to amplify your tablescape. For arrangements, look for white lilies, red roses, green button poms and other festive greenery, such as berries, pinecones and sprigs of cedar. Not only will it look beautiful, but it will smell good, too.
The best way to create a cohesive look is with full sets of dishes, glassware and silverware. You can get everything to complete your table at CorningWare, Corelle and more stores, which offer complete kitchenware collections from over 80 well-known and trusted brands including Corelle, CorningWare, Baker's Secret, Chicago Cutlery and Pyrex. Not to mention, CorningWare, Corelle and more offers holiday products with the color schemes and patterns you need to complete your festive look. You can find a store closest to you at www.shopworldkitchen.com/stores.
Not only will guests bask in the creative design of your stunning tablescape, but the table will bring everyone together to create new memories – which is what the season is all about. For more ways to make your spread spectacular, visit www.shopworldkitchen.com.
SOURCE:
World Kitchen Products