We Are Easter People Living in a Good Friday World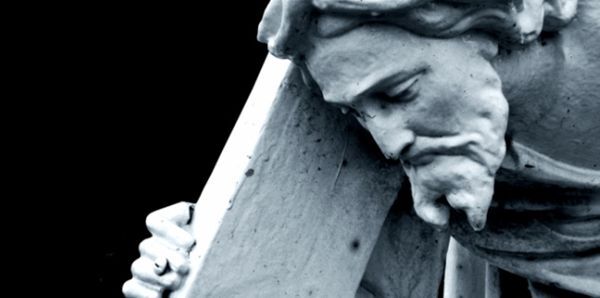 By David Burchett, Crosswalk.com
As Easter approaches I remembered an article in USA Today titled We are Easter People. I think it is worth a second look and here is a portion of the piece written by Diane Cameron.
One of the lowest points in my life occurred years ago when I was living in Washington, D.C., at Easter time. My older sister had recently died and both of my brothers were seriously ill; my best friend was leaving town, and on top of that I was questioning my work. In my journal that April I wrote, "Am I depressed?" When I read those pages now I laugh and shake my head. "Depressed?" That I even had to ask. In that long year I thought I'd never laugh again, just as I thought I'd never again feel love, the joy of easy friendship, or the satisfaction of good work.
I went to church that Easter out of both habit and desperation. I had grown up in a church-going family. It was what we did. And so to honor the family that I was losing I went. Easter after all, is the centerpiece for Christians, honoring and recalling Christ's triumph over death.
I chose a big downtown church for Easter services — one with hundreds in the congregation — not daring to visit a smaller church where I might have to speak to people or be embarrassed by my own tears. I wanted the paradoxical safety and anonymity of being in a crowd.
The minister that Easter Sunday said many things that I don't remember, but one sentence has stayed with me all these years. He said, "We live in a Good Friday world."
That I understood. A Good Friday world is a world full of suffering, questioning, unfairness, trouble, mistakes, hurts, losses and grief. Good Friday in the Christian faith is the day Christians commemorate Christ's suffering and death on the cross. So that certainly made sense to me at that difficult time in my life.
"But," he continued, "We are Easter people." Those words stopped me cold. I was stunned to be reminded that painful morning that there was something other than what I was feeling.
Wow. What an amazing message as we head into the Easter week. We do live in a Good Friday world. How easy it is to stop right there, just short of healing, not realizing the hope of resurrection. The story of Easter week did not stop on Friday. The hope of this season is all about Sunday. Tony Campolo writes about a life changing sermon he heard in his book It's Friday but Sunday's Comin'. (Note to spiritual cyber hall monitors...I know Mr.Campolo is controversial. Just enjoy this illustration, take a deep breath, and move away from the keyboard). Campolo writes about hearing a wise African-American pastor preach about the events of Easter week.
For an hour and a half he preached one line over and over again..."It's Friday, but Sunday's comin'!" He started his sermon real softly by saying, "It was Friday; it was Friday and my Jesus was dead on the tree. But that was Friday, and Sunday's comin'!" One of the Deacons yelled, "Preach, brother, Preach!" It was all the encouragement he needed.

He came on louder as he said, "It was Friday and Mary was cryin' her eyes out. The disciples were runnin' in every direction, like sheep without a shepherd, but that was Friday, and Sunday's comin!"
The preacher kept going. He picked up the volume still more and shouted, "It was Friday. The cynics were lookin' at the world and sayin' `As things have been so shall they be. You can't change anything in this world; you can't change anything. But those cynics don't know that it was only Friday. Sunday's comin'! It was Friday, and on Friday those forces that oppress the poor and make the poor to suffer were in control. But that was Friday! Sunday's comin'!
It was Friday, and on Friday Pilate thought he had washed his hands of a lot of trouble. The Pharisees were struttin' around, laughin' and pokin' each other in the ribs. They thought they were back in charge of things. But they didn't know it was only Friday! Sunday's comin'!
Campolo continues, "He kept on working that one phrase for a half hour, then an hour, then an hour and a quarter, then an hour and a half. Over and over he came at us, "It's Friday, but Sunday's comin!" By the time he had come to the end of the message...He had me and everybody else so worked up that I don't think any of us could have stood it much longer. At the end of his message he just yelled at the top of his lungs, `It's FRIDAY!' and all 500 of us in that church yelled back with one accord, `SUNDAY'S COMIN'!"
A lot of people who stumble across this site might be in the middle of what seems to be an interminable Friday. It is hard to accept suffering and illness. Relationships that hurt us make Friday seem like it will never end. The trials of living on a fallen planet will make this seem like a Friday world at times during the journey. Three years ago Joni's diagnosis of cancer put us into a Friday state of mind. But we trusted that Sunday's comin'! As we told our wonderful sons, if your faith doesn't work at times like this it is of little value for the rest of the time. And it does work. We have been blessed with healing for now but we have the greater hope of the resurrection of Jesus as we continue. We trust in a God that has been faithful to strengthen us for the battle, work through us for His glory and teach us to be dependent on Him.
I believe the message of this week. Sunday's comin'. And I believe that with all of my heart and soul. Paul wrote in Romans...
I am not ashamed of the gospel, because it is the power of God for the salvation of everyone who believes: first for the Jew, then for the Gentile. For in the gospel a righteousness from God is revealed, a righteousness that is by faith from first to last, just as it is written: "The righteous will live by faith." (Romans 1, NIV)
I am not ashamed of the Gospel. I fact I am excited about the Gospel. Even though I may be living in a Good Friday world today I am convinced that Sunday's comin'!
---
Dave Burchett is an Emmy Award winning television sports director, author, and Christian speaker. He is the author of When Bad Christians Happen to Good People and Bring'em Back Alive: A Healing Plan for those Wounded by the Church. You can reply by linking through daveburchett.com.