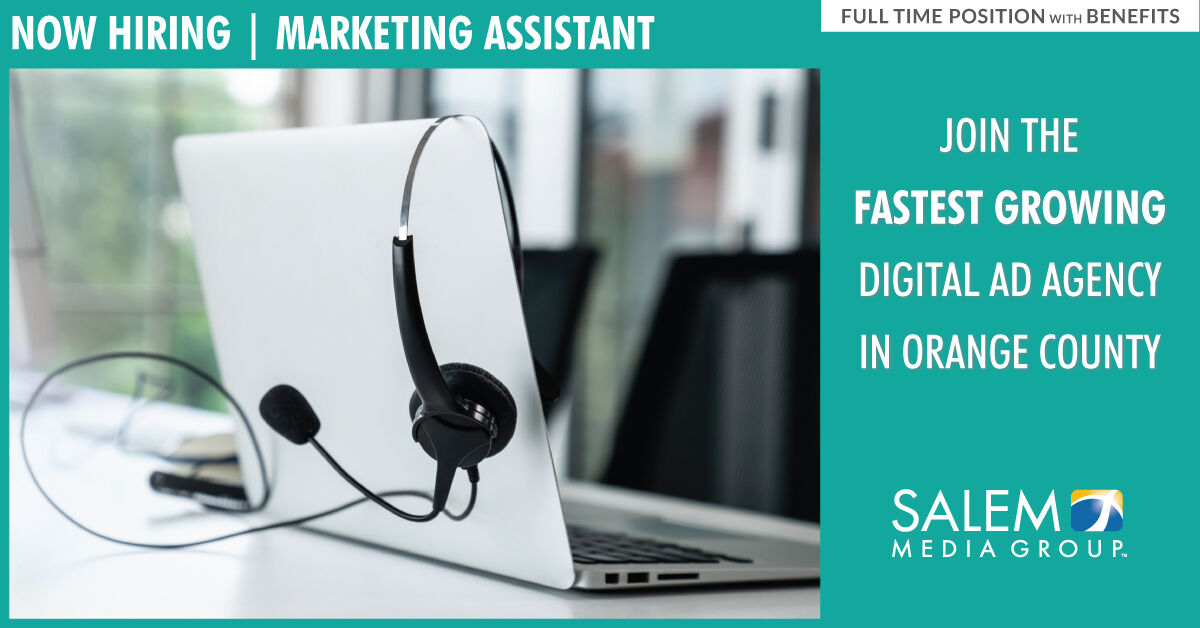 MARKETING ASSISTANT
Be a part of a team where what you do every day matters. Salem Media Group is looking for a dynamic Marketing Assistant to join our Broadcast Sales and Media Advertising team in Orange County. You will be supporting our local marketing team and assisting with creating advertising solutions for our innovative stations and digital platforms. Our offices are located in Orange, CA.
Responsibilities
Reports to: KFSH General Sales Manager
Shift/Hours/Status:

This is a FULL-TIME, 40 hours per week position
Compensation:

Will be based on previous experience.
Position is located in Orange, CA
Assist staff with sponsorship proposals and recaps
Performing general administrative duties including typing, filing, faxing, emailing, mailing and answering phones
Manage Media Strategists' contacts and calendars
Assist Media Strategists with writing orders and revisions
Manage the third party website Neofill ½ price deal of the week.
Maintain management and reporting systems (ie: Media Strategists client lists, leads, etc.)
Communicate professionally with clients daily and be a solution provider
Ability to deal effectively with tight deadlines, and the diverse needs of, management, clients and Media Strategists , with the ability to multi-task with attention to detail and accuracy
Generating contract confirmations and invoices for staff upon request
Sending out spot times upon client request
Generating reports in Wide Orbit and preparing for managers upon request, such as client aging, billing etc…
Assist Account Credit Manager by recording and depositing checks to station's lockbox
Separate and distribute contracts to Media Strategists in a timely manner
Attend and contribute to weekly Sales meeting with the team
Prepare, edit and finalized sales presentations, type and proofread memos, letters and copy Partner and strategize with Media Strategists to create original, unique, professional proposals
Prepare Sales Packages, Media Kits and One Sheets
Required Experience
Proficiency in MS programs including Excel, Word and PowerPoint.
Extremely detail-oriented
Excellent communications skills
4 year college degree preferred
Radio experience a PLUS
We offer Health, Dental and Vision Insurance; Life Insurance, 401k Retirement Plan; paid vacation and holidays.
Come see how Salem is DIFFERENT and why we've been awarded as a "Great Place To Work" and as a "Best and Brightest" employer.
Salem Media Group is an equal opportunity employer.
CLICK HERE TO APPLY FOR THIS POSITION - (You will be redirected to the Salemmedia.com corporate Career website to complete the application process - job listed as Marketing Assistant - General & Administration, Orange CA)