For the Days You Don't Like Your Spouse
By John UpChurch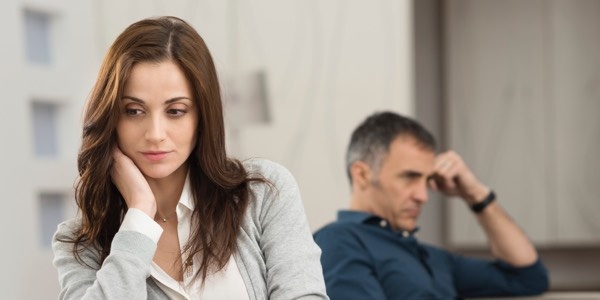 As much as I don't like to admit it, I'm not always the easiest husband to like. My wife and I share many of the same interests (after all, that's how eHarmony matched us up), but my laissez-faire attitude on certain matters can be a bit frustrating to my born planner wife.
However, our differences aren't as great as in some marriages, where those opposites attracted… and led to some difficult discussions later on. Such is the case with Amie and Darrin Patrick, the lead pastor of The Journey in St. Louis. Amie writes:
"In general, though, we're wired very differently. The ways in which we approach life often lie on opposite ends of the spectrum. Much of the time, we're profoundly grateful for God's design in our union. Our respective strengths and weaknesses create a helpful and beautiful balance. We don't have far to go to find an opinion or perspective that will likely be quite different from our own. We're less likely to excuse one another's sins and weaknesses. The flip side of the coin, however, is that we also have to work really hard to understand, accept, and appreciate the differences in each other. Frankly, learning to do this has been significantly more difficult than we expected."
How does the couple deal with the days when differences lead to tensions? Simple. They embrace them.
"…We truly desire a marriage where we honor and enjoy one another's differences as gifts from God. Over the years we've definitely found that the hard work that helps us appreciate and enjoy one another more is usually practical and specific. We're learning to approach our moments of tension and irritation with each other as God-ordained opportunities to build a stronger marriage. In light of that goal, there are a couple steps of repentance and action we try to practice regularly."
First, they confess the struggle to God.
Complaining or pretending may be easier, but admitting our own need for help in our marriage allows us to see God working on our relationship. We have to humble ourselves first instead of immediately trying to "fix" our spouse.
Then, they differentiate between personality differences, preferences, and sin.
The truth is that much of what frustrates us in marriage often boils down to our preferences in how someone should act. Just because they take a different approach doesn't mean it's the wrong approach. We have to examine our motivations.
In a recent blog post on BibleStudyTools.com, Pastor Ron Edmondson also understood the challenges that married couples can face. That's why he subscribes to his "7 Commandments of a Great Marriage":
"Thou shalt serve one another. A good marriage practices mutual submission. Ephesians 5:21 commands us to submit to one another out of reverence to Christ. Marriage is not a 50/50 deal. It's a 100/100 deal—each willing to surrender all to the other person.

"How are you at serving your spouse? Would they say you strive to serve them more everyday? Are you more the giver or the taker in the relationship? Be honest.

"Thou shalt love unconditionally. Unconditionally means without conditions. (See how deep this blog can be.) I'll love you if… is not the command. It's I'll love you even if not. God commands us to love our enemies. How much more should this commitment be strong within a marriage?

"Are you loving your spouse even with the flaws that you can see better than anyone else? Here's a quick test: Does the way you communicate with your spouse indicate you have the highest regard for them—always?"
What about you? What advice do you have for when you don't like something your spouse does or a difficult personality difference? How have you kept your marriage strong?
John UpChurch is the senior editor of BibleStudyTools.com and Jesus.org. You'll usually find him downing coffee at his standing desk (like a boss).