Music Review: "Made" Makes Hawk Nelson Fly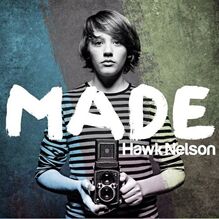 By Tim Laitinen, Crosswalk.com Contributing Writer
And then there were three. Canadian band Hawk Nelson says it has a new punk-Christian sound after its original lead vocalist, Jason Dunn, left one year ago, and Jonathan Steingard took over that role. Their first release since that realignment is Made, and it's unlikely their fans will be disappointed by any of these changes. Perhaps now, there's less punk rawness and extraneous noise in the new iteration of Hawk Nelson, but that just makes it sound a bit fresher. And isn't that to be expected in the Contemporary Christian Music genre?
If you're current on the CCM industry's release dates, you'll already know that Hawk Nelson's featured single from Made, entitled "Words," is already out, and providing a robust teaser for the album's other offerings. "Words" represents a good choice as an early release, since it's probably the best song on this CD, with clever lyrics that both convict yet encourage at the same time. Indeed, delivery of such a potent message about taming our tongues is incredibly important in our day and age, as vitriol and gossip serve as news. Not that everything else is downhill from "Words;" it's just easy to see why the band released it first.
Actually, most of the lyrics across Made's spectrum embody a solid theological thrust. From doubt to assurance of salvation, Hawk Nelson's audience will be challenged with truth that's wrapped up in a more mainstream sound than what some might consider a more conventional punk aesthetic. Indeed, if you like how Katy Perry has changed the sound of rock music, this new sound of Hawk Nelson's risks trivializing the robust messages they've crafted.
Robust messages – at least until the last couple of songs. It's almost like "Outside the Lines" and "Fighting For" were written by a completely different band. Their theology suddenly becomes dubious and their themes poorly supported. For one thing, God doesn't color outside the lines; He made the lines! With such good doctrine in other parts of this album, it's disconcerting to suddenly lurch into a colloquial caricature of the Almighty.
"Fighting For" is a love song that, while accurately speaking to commitment and longevity, posits a common yet dangerous flaw in Christian relationships. Hawk Nelson takes the popular route in ascribing to men the preponderance of responsibility in protecting his wife and marriage. Which isn't wrong, except in how it infers that male gallantry holds unilateral keys to a relationship's success. With so many Christian marriages in trouble these days, it seems obvious that nuanced touchstones such as "Fighting For" don't help to explain the duality of responsibility in covenantal relationships, or indeed the role God wants to play in "fighting for" us.
In keeping with the "word" theme, we can't ignore the reality that sometimes, what we don't say can be just as problematic as what we do. Word up.
*This Article first published 3/20/2013
Page Source (url):
http://www.crosswalk.com/culture/music/i-made-i-makes-hawk-nelson-fly.html