Chris Tomlin, MercyMe to Launch Co-Headlining Winter Tour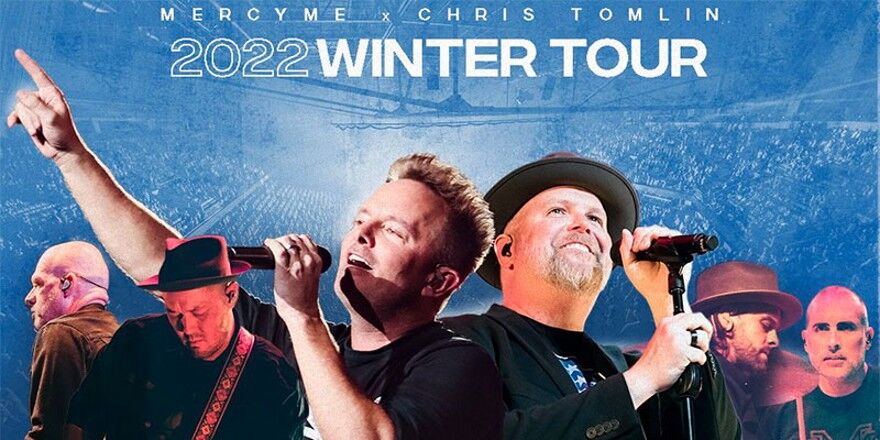 Two of the most successful touring acts in Christian music are partnering to launch a one-of-a-kind co-headline tour this December 1-13: "Chris Tomlin X MercyMe: A Winter Tour."
"After years of incredible friendship, I am so excited to announce that I am hitting the road with MercyMe this winter for the first time! For me, there is no better way to close out 2022 than to come together and celebrate God for all he has done, is doing, and will continue to do in each of our lives…" shared Chris. "And since it will be December, there may just need to be a "flurry" of Christmas songs in the night, hope to see you there!"
"Finally! I can't tell you how many times MercyMe and Chris Tomlin have talked about touring together," shared Bart Millard of MercyMe. "We've been friends for many years and we're so excited that it's finally happening. These nights are going to be special and truly a tour you do not want to miss."
"Chris Tomlin X MercyMe: A Winter Tour"
December 1 Raleigh, NC PNC Arena
December 2 Charlottesville, VA John Paul Jones Arena
December 6 Charleston, SC North Charleston Coliseum
December 8 Macon, GA Macon Coliseum
December 9 Huntsville, AL Probst Arena
December 10 Southaven, MS Landers Center
December 11 Little Rock, AR Simmons Bank Arena
December 13 Dayton, OH Wright State University Nutter Center
Tomlin will embark on the "Chris Tomlin X MercyMe: A Winter Tour" just after the close of his 35-city tour with UNITED.
Earlier, Tomlin released a new full-length worship album, Always. The project contains 13-tracks all of which were co-written by Chris except for the historical and beloved hymn "Oh Lord, You're Beautiful" which features Steffany Gretzinger.
Meanwhile, MercyMe releases their 11th studio project, Always Only Jesus, a 10-song collection that is a musically inventive, lyrically substantive return to the band's bedrock signature style.