Music Review: Kari Jobe, "The Acoustic Sessions" EP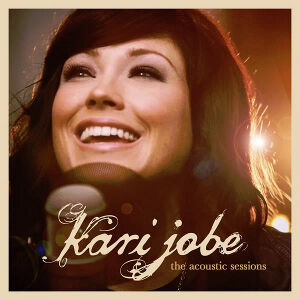 Since her debut with Integrity Music a few years ago, worship leader Kari Jobe has been impacting the church body far and wide. Earlier this year, Jobe left quite an impression on audiences while on the massive Winter Jam Tour Spectacular and simultaneously celebrated the release of her sophomore major label project, Where I Find You--her first with Sparrow Records. Now, just a couple months after its street date, Jobe is ready to release a special acoustic project exclusive to iTunes, The Acoustic Sessions EP.
"Acoustic" is a word that means something different to each listener. For example, "acoustic" renditions of songs can be interpreted as consisting of merely a singer with an acoustic guitar and nothing else, while it can also mean a full band and strings without significant electric guitar use and studio production. For Kari Jobe's The Acoustic Sessions EP, we have something that can be described more so as the latter. Here, she offers five songs from Where I Find You in a somewhat more stripped-down approach, but often complete with drums, cello, piano and acoustic guitar. The level of how simplistic these songs get does vary from track to track, but it's songs like "Steady My Heart" that really maintain a lot of the fullness of its original studio cut in this acoustic form. On the other hand, "Here" is presented primarily with just Jobe's vocals and some hints of piano, guitar and cymbals on occasion. It may only be a little more subtle than the already mellow studio version, but it's an example of the heightened level of intimacy that these acoustic sessions offer that may get a bit lost in translation with the studio versions.
Overall, some of the biggest noticeable differences throughout these five recordings include Jobe's soft, charming vocals brought more to the forefront of the sound and the lyrics being clearer and easier to understand as they're sung. Jobe's voice sounds great on the studio album, but heaven knows that all kinds of tricks can be used in the studio to make a singer sound better. The Acoustic Sessions proves Jobe to have genuine vocal talent. Also, the CCM radio sheen is almost completely absent (aside from some of the actual song composition characteristics) and almost all of the vocals on the project are presented as just Jobe alone (except for some brief male BGVs on "One Desire"), with no vocal layering. The production here is pretty straight-forward and pure and it does strengthen the intimacy of the worship experience, but some will undoubtedly miss the more corporate feel of anthems like "We Are." However, because the bigger scope of songs like "Find Me On My Knees" and "Steady My Heart" remain as soaring as they do on the studio cuts, these acoustic renditions don't sound too much different than their original takes, and some may find that to be problematic. Where the more restrained acoustic sessions can soften and create an almost entirely new composition of a familiar song (Sanctus Real's Pieces of a Real Heart acoustic sessions come to mind), Jobe's may stick ever too closely to what fans already know these songs to be. In the end, it's not really a problem if you aren't looking for a reinvention of the proverbial wheel here, but those looking for more differences in these acoustic versions from the previous Where I Find You originals are likely to be a little disappointed.
When all is said and done, Kari Jobe's The Acoustic Sessions EP are beautiful renditions of already really beautiful songs. The selections here are arguably the best tracks on Where I Find You, and that alone makes The Acoustic Sessions EP a strong offering. These pure and stripped-down recordings aren't nearly as minimalistic as acoustic sessions can be expected to be, but the lack of shimmering, glossy production give them a more intimate worship experience. These are the kinds of recordings you'll want to use in your quiet time with Jesus, whereas the original versions for the more anthemic songs are more appropriate for a corporate worship setting. The Acoustic Sessions EP is a nice treat and a surprise for those who didn't see this recording coming; fans of Jobe will definitely want to pick this up, while those who may have thought the studio album was a bit too polished will want to check out these renditions.
-
Record Label:
Sparrow Records
Album length:
5 tracks: 20 minutes, 19 seconds + 2 Videos
Street Date:
July 17, 2012
We Are (Acoustic) (3:36)
Steady My Heart (Acoustic) (3:23)
Find You On My Knees (Acoustic) (3:13)
One Desire (Acoustic) (4:31)
Here (Acoustic) (5:38)
Steady My Heart (Acoustic) [Live Video]
We Are (Acoustic) [Live Video]

Used with permission - www.jesusfreakhideout.com