Nominees Announced For 54th GMA Dove Awards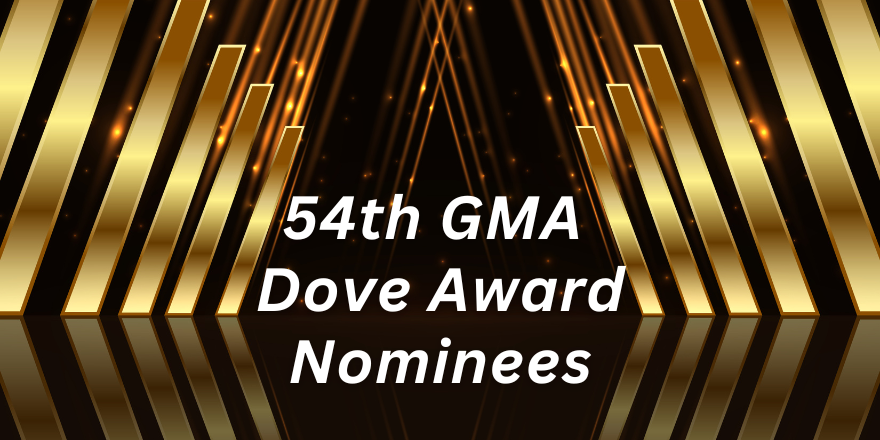 The Gospel Music Association has announced all nominees for the 54th Annual GMA Dove Awards.
Top male nominees include Brandon Lake with eleven (11) nominations, songwriter Jeff Pardo with eight (8) nominations, and Jason Ingram and Kirk Franklin receiving six (6) nominations each. Top female nominees include Katy Nichole, who picked up four (4) nominations with Lauren Daigle, Naomi Raine, and Tasha Cobbs Leonard each receiving three (3) nominations.
The GMA Dove Awards Nashville event will be held October 17th, 2023, and will air exclusively on TBN and the TBN app, Friday, October 20th, 2023 8:00p.m. ET and 10:00p.m. ET.
Nominees were announced in an artist-hosted livestream event featuring Jason Crabb, Jordan Feliz, Danny Gokey, Natalie Grant and JJ Hairston.
Here's a look at the nominee announcements....


HERE ARE THE NOMINEES...!
Song of the Year
"Build A Boat" (Writers) Colton Dixon, Seth Mosley, Johan Lindbrandt, Sandro Cavazza, Mikey Gormley
"Fear Is Not My Future" (Writers) Kirk Franklin, Brandon Lake, Jonathan Jay, Hannah Shackleford, Nicole Hannel
"God Really Loves Us" (Writers) David Crowder, Ben Glover, Jeff Sojka, Dante Bowe "Goodness Of God" (Writers) Ben Fielding, Ed Cash, Jason Ingram, Jenn Johnson, Brian Johnson
"Gratitude" (Writers) Brandon Lake, Ben Hastings, Dante Bowe
"In Jesus Name (God Of Possible)" (Writers) Ethan Hulse, Katy Nichole, David Andrew Spencer, Jeff Pardo
"Love Me Like I Am" (Writers) Joel Smallbone, Luke Smallbone, Michael Pollack, Josh Kerr "Perfectly Loved" (Writers) Rachael Lampa, Andrew Ripp, Ethan Hulse
"Same God" (Writers) Brandon Lake, Steven Furtick, Chris Brown, Pat Barrett
"Then Christ Came" (Writers) Bart Millard, Phil Wickham, Jason Ingram, David Leonard
Artist of the Year
Brandon Lake
CeCe Winans
for KING + COUNTRY
Lauren Daigle
Phil Wickham
New Artist of the Year
Ben Fuller
Hulvey
Jon Reddick
Katy Nichole
Naomi Raine
Pop/Contemporary Recorded Song of the Year
"Brighter Days" – Blessing Offor
"I'm So Blessed (Best Day Remix)" – CAIN
"Love Me Like I Am" – for KING + COUNTRY ft. Jordin Sparks
"God Is In This Story" – Katy Nichole ft. Big Daddy Weave
"Thank God I Do" – Lauren Daigle
Worship Recorded Song of the Year
"Gratitude (Radio Version)" – Brandon Lake
"Honey In The Rock" – Brooke Ligertwood, Brandon Lake
"Holy Forever" – Chris Tomlin
"Fear Is Not My Future (Radio Version)" – Maverick CIty Music ft. Brandon Lake, Chandler Moore
"This Is Our God" – Phil Wickham
Pop/Contemporary Album of the Year
My Tribe – Blessing Offor
Jesus Changed My Life – Katy Nichole
Always Only Jesus – MercyMe
Life After Death – TobyMac
A Hundred Highways – Zach Williams
Worship Album of the Year
Come Up Here – Bethel Music
Honest Offering (Live) – CAIN
God Is Good! (Live) – Cody Carnes
LION: Live From The Loft – Elevation Worship
Lamb Of God – Matt Redman