By Caroline Lusk, CCM Magazine
For singers, breath support is everything. Shallow breathing doesn't go very far, while deep breaths and controlled exhalation allow for expanded range and endurance.

Proving she's a master of her abilities, to date Plumb has sold over 500,000 albums plus two million singles, and counting. Lately, the "singer's singer" has been applying these principles to other parts of her life.

The personal revelations she has had are now woven into her latest studio project, aptly titled Exhale.

"The last few years of my life have been the hardest," she says. "However, I've now reached a place at which I'm completely surrendering to God, letting Him breathe into me so that I can breathe out. I've been holding my breath for so long, attempting to control everything around me. Now, I can finally exhale."

As she breathes out, she's taking account of God's mercy on her family in these last few seasons of life. This perspective doesn't always come easily.

Plumb has been incredibly forthright when it comes to sharing the story of her marriage, which was on the brink of ending. In retrospect, however, she can now see that many of the issues that drove she and her husband apart happened over an expanse of time.

"I've been so blessed to have had my career play out so well," she says. "There was a time when we were doing great professionally. We were traveling a lot, winning awards and making a mark in mainstream music alongside our work in the Christian market. Admittedly, there was a time when I felt that I was better than just a CCM artist. I even stopped listening to Christian music, for the most part."

That changed when things at home began going south.

"I didn't like who I was," she says. "I was frail, weak and sad. Darkness had invaded my heart, my life and my home. Eventually, I reached the point of complete brokenness." It was at this impressionable time when hope would spring from a familiar source. "I remember one particular day at home, I overheard some Christian music playing in the background. Even to my own surprise, the lyrics of the songs provided the very hope that I needed."

That event alone began to re-purpose Plumb's heart, as she gained an entirely new perspective of Christian music, and felt "an overwhelming sense of gratitude to be a part of it."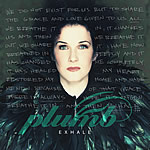 As she was experiencing this musical and purpose-driven realignment, God was at work repairing the home front. Their own diligence notwithstanding, through individual and couples counseling, both Plumb and her husband worked hard to rebuild their relationship. Once on the brink of divorce, God restored their marriage and the two are opening a new chapter of life together.

"I'm in a new head and heart-space," states Plumb. "Everything has changed. I believe in resurrection now more than ever. God has taken what was dead, brought it back to life, and continues to make it better. Exhale is intended to reflect all of this."

With gratitude and humility coursing throughout, this new project will continue to be an intended source of inspiration and hope for others. ...
---
Click here to read more articles like this from CCM Magazine! The above article is printed with permission from CCM Magazine, the No. 1 source for all things Christian music, news and entertainment