Early Bird Tickets On Sale!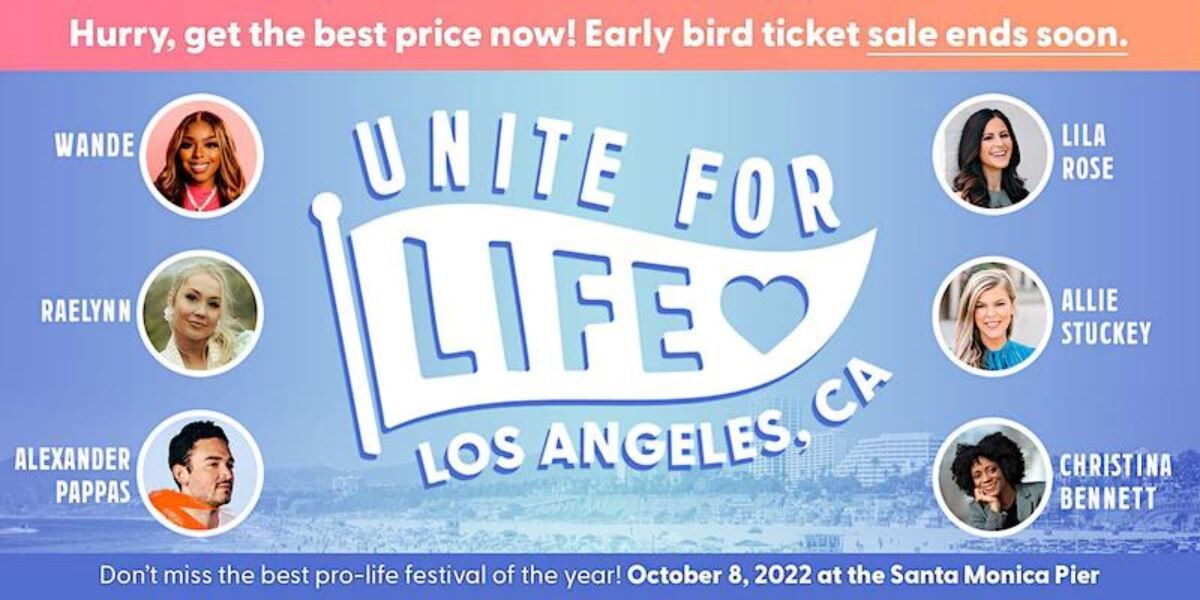 4:30 PM on Wednesday, August 31 - Saturday, October 8
Join Live Action for an invigorating evening with chart-topping musical artists, world-class speakers, and thousands of fellow human rights activists to celebrate LIFE and be equipped and encouraged in the fight to end abortion and build a Culture of Life.
Who will be there?
Unite for Life will feature:
Lila Rose
Country Star RaeLynn
Allie Beth Stuckey
Alexander Pappas of Hillsong Y&F
Reach Records' WANDE
Christina Bennett
Many more artists and speakers will be announced soon!
Limited early bird tickets are available, so get yours before they're gone! Once the full speaker list is revealed, these best-priced tickets will sell out.
CLICK HERE TO PURCHASE TICKETS
Where will the festival take place?
Unite for Life will take place at the stunning Santa Monica pier. Gates will open at 4:30 PM on the evening of October 8th.
Why should I attend?
Unite for Life is a chance for pro-lifers around the nation to gather in celebration of life. When we are united, we can empower mothers, fathers, and families to embrace LIFE and ensure every child in every state is completely protected. Together, we will end abortion in Los Angeles and our nation.
What if I want to sponsor this event?
If your company or organization would like to sponsor Unite for Life, please see our sponsorship options and email Ashley Brady @ [email protected] We are happy to work with you to custom-fit the best sponsorship option for you.